Making the Facebook invisible name or ghost name account is simple, is just changing the Facebook profile name. See the best fb ghost name symbol
FB Ghost Name Copy Paste Are Available Below
How To Make Facebook Ghost Name or Invisible Name Account
Hello, stop searching Facebook Invisible name account tricks or Symbols. You are in the right place, Here you will get 30+ Ghost Name Symbols and tricks on how to make your Facebook account name invisible or ghost.
Before going to make such accounts, we need to know what is Ghost Account or Invisible Account is. Here is a short description
What Is Facebook Ghost Name or Facebook Invisible Name Account?
  Facebook is a book of faces by Mark Zuckerberg, the best and most popular social network. And ghosts have not seen my human they are Invisible. On Facebook, some users make their names invisible/and hide their Facebook names. Actually, some international language is not shown on general browsers so they are like a ghost they are Invisible so this is called Invisible Facebook ID some are also taking these types of Facebook accounts as Ghost Facebook Account.
If you also want to make your Facebook Name Invisible or Make Facebook Ghost ID, I will give you a trick to change your Facebook account name to an international language, where your name will not be shown.
[Note: This Tutorial Is Only For Educational purposes, And We Are Not Responsible For Any Restriction On Your Facebook Account. So Do It At Your Own Risk]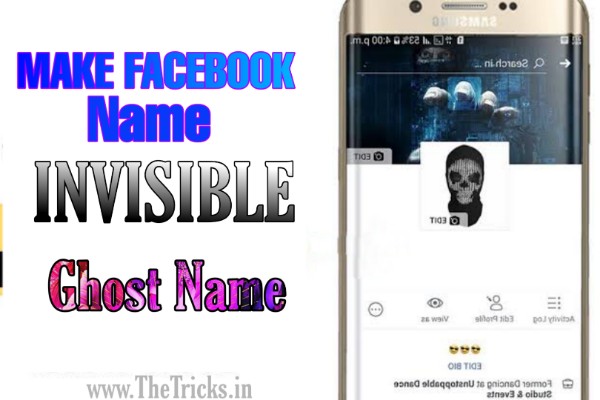 How To Make Facebook Ghost Name or Facebook Invisible Name
Just open Mozilla Firefox (if you are using a desktop or laptop) or Google Chrome (If you are using mobile devices) and go to www.facebook.com.  This trick is not working on Facebook App 
Then log in to your Facebook account with your Facebook login credentials or if you do not have a Facebook account then create a new account.
Now change your Facebook language to "BHASA INDONESIA ". (Language setting is available on Settings>>General>>Language)
Then go to the Facebook account setting which is located at the bottom of the mobile browser or right corner in desktop browsers.
And click the general setting and change your Facebook name by clicking on the edit button.
Now copy any character from Facebook ghost id or Facebook invisible name symbol and paste it on both first and last name.

[Warning: You May Not Able To See The Ghost Symbols, You Must Disable Adblocking On Your Browser. And Click On Original View In This Page On The Upper Right Corner To See The Ghost Symbols]
Facebook Ghost Symbols Facebook Invisible Name Symbols
Simply copy these Facebook invisible names and paste them into the Facebook name section.
Best Ghost Name Symbol Copy Paste
Then click on review change and then enter your password and click on the Save button.
It is Done!
Some Advantages and Dis-Advantages Of Facebook Ghost Name or Invisible Name
Conclusion
Facebook's invisible name or ghost name accounts are such accounts whose profile names which are not supported by Facebook so those names are not visible. You can easily make yours also (follow the above steps). Just copy facebook's invisible name symbol or ghost symbol and paste it on the Facebook name section then Boom.