1.1.1.1 Warp+ Unlimited Key is a key to get unlimited GB (data). By using this key you can earn unlimited data limit on warp+ app by Cloudflare
How to get unlimited data limit in a warp account through 1.1.1.1 Warp+ Unlimited Key
1.1.1.1 Warp+ Unlimited Key To Get Unlimited Data Free
First download warp+ from the play store.

2. Open warp+ and go to settings (click on 3 dots in the upper right corner).
3. Then click on "Account".
4. And then click on "Key".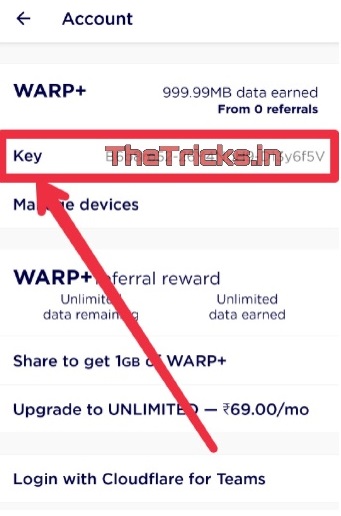 5. Now click on "Change Key".(License Key)
6. Then enter the 1.1.1.1 warp+ unlimited key and get unlimited data in warp+
1.1.1.1 Warp+ Unlimited Key is "B6b8ro52-26Y4NbH9-D13y6f5V"
7. Now tap on "Save"
Done now check your data limit on warp it will show 999.99MB and it will never decrease or expire.
If it shows "Too Many Devices Connected" then try the below trick.
Get Unlimited GB In Warp+ Using Warp+ Mod App
Simply Download the 1.1.1.1 Warp+ Mod App and Install it on your device and enjoy using it with unlimited data.
Get Unlimited Free Data In Warp+ Using Script
[Note: This trick is not working, I request you to use step through Warp+ Unlimited Key]
This is a DNS type VPN, and it is based on Cloudflare's DNS 1.1.1.1 (Most fast DNS) It gives fast speed than other Vpn. But it is not like other VPNs so maybe your real IP does not change.
And it allows to open all blocked sites and gives more than the original speed.
Note: The Unlimited Data Will You get this is not to use the free internet, this is only for those who want to optimize their network speed. The data you will is only for accessing data through a VPN. For example, if u get 1GB of data that means you can access up to 1GB of data throughout the VPN. That is your data limit.
Trick To Get Unlimited Free Data Through Script In 1.1.1.1 Warp+ Account
1. Download warp by Cloudflare from the play store (click to download).
2. Open it and you get only warp access. to get unlimited data you need to do this.
3. Go to Warp Setting >> Advanced >> Diagnostics and copy id.
4. Then go to https://get-bug-cloudflare.lvddong.repl.run
5. Paste the ID here and hit enter.
6. Put any number and hit enter.
7. That's done.
Warp Is Not Comming To Windows So I Will Update Method For Windows Soon.
Internet Speed Test Result
Local Network
In Hindi
Paiye Unlimited Free Data Script Ke Jariye Se 1.1.1.1 Warp+ Me
[Update: Sorry ab ye trick kam nehi karraha he, so please no.1 trick follow karen]
Ye ek DNS prakaar VPN hai,aur cloudflare based DNS 1.1.1.1 (sab se tej DNS) hai, yah VPN ke tulana mein tej gati deta hai. lekin yah dusra VPN ke tarah nahi hai isliye shaayad aaoke aslee IP address nahi badalata hai. aur yah sabhee block site ko kholne kee anumati deta hai aur asal speed se jiyada speed deta hai.
Note – Ye jo gb mr data he ye Warp+ ka data he matlab aap itna gb VPN ka access kar sakte ho , Ye SIM ka data nehi he ke aap ye samajh rehe ho kr abb to net Unlimited chalega , aisa kuchh nhi he , ye vpn unke liye he jo speed optmized rakhna chahte he aur blocked website access karna chahte he.
Unlimited Warp+ Data Milne Ka Tarika Script Ke Jariye Se.
1. Warp+ app ki download kare play store se (click to download).
2. Isko Open Karen. Aur aapko sirf Warp Ka access milega. Aur agar aap ko unlimited data Chahiye to isko dekhe.
3. Warp+ app Ka settings me Jaye fir Advanced fir Diagnost ki copy Karen.
4. Uske baad https://get-bug-cloudflare.lvddong.repl.run is link pe Jaye.
5. Warp+ ki ID dalde aur enter par click Karen.
6.Fir koi bhi number dale aur enter par click kare.
7. Done.
Ye Sirf Mobile Me Liye Tha Windows Ke Liye Abhi Tak Mila Nehi Jab Mil Jayga Update Kar Dunga
Conclusion
So this is the trick to get unlimited data on warp through warp+ unlimited key and through the script. Just enter your key on the script site and click enter your warp+ account credit with 1GB, Continue this process and make unlimited data on Warp+