Do you want to earn free Bitcoin then please join Coinswitch Switch and earn unlimited free Bitcoin. Joining bonus is ₹50 INR.
On this article I will give you a trick to earn free Bitcoin Worth Of 50 rupees, so read this post carefully if. You want to earn money online using coinswitch app.
Coinswitch app is a platform for online trading of crypto currencies as like as share market trading. In this app you can buy Cryptocurrency like Bitcoin (BTC), Ethereum (ETH), Enjin Coin (ENJ), Republic Protocol (REN), Basic Attention Token (BAT) etc. Mostly every Cryptocurrency are available to trade on coinswitch app. Coinswitch is the best app to trade crypto currency in India according to me.
How To Earn Free Bitcoin On Creating Coinswitch Account?
Simply install and register on coinswitch and earn free bitcoin of ₹50. Actually coinswitch give their new members and those who refer , bring new member to coinswitch both will get ₹50 worth of bitcoin. Here are step by step guide you may read this .
Install Coinswitch
Just open this link and Install coinswitch from google play store or from Apple app Store
Register On Coinswitch
• Open coinswitch and enter your mobile number.
• Then click on "Continue".
• Now type the OTP received through sms and continue.
Setup Passcode
After registration you need a 4 digit passcode which is need to login your account.
• Enter any 4 digit passcode and reminder it. (Don't share Passcode/OTP to anyone).
Rs.50 Is Credited To Your Coinswitch Account
After Creating of coinswitch account through referral link you will se Rs.50 is credited to your account but it is locked.
Verify Your Coinswitch Account
This is the last step where you need to verify your account through government document. There is 3 step verifications, Basic Verification, PAN CARD Verification and Identity Verification. Just follow below steps.
• Click on "Profile".
• Then click on "User Verification".
Basic Verification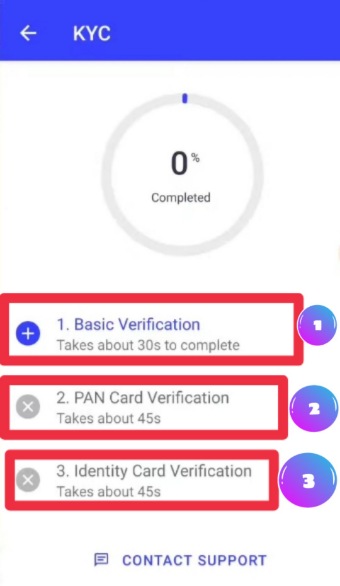 In basic verification you have to type your Full Name, Date Of Birth and Email Id.
• Write down your Full Name (same as documents), Date Of Birth (same as documents) and email.
• Then click on "Verify".
• Enter OTP received in email and continue ( must check your all email box for OTP).
PAN Card Verification
In PAN Card Verification you have to upload your Pan card photo of both side, photo will be automatically capture from coinswitch camera no upload option from gallery is there.
• Click on "PAN Card Verification".
• Allow camera access to coinswitch and capture your Pan card photo.
Identity Card Verification
Identity Verification means you have to upload any document from Aadhar Card or Passport or Voter ID.
• Click on "Identity Verification".
• Capture Your document's front side and back side.
Upload Selfie
After all you have to upload your live photo.
• Just bring your phone at the front of your face it will automatically capture your live photo.
Done!
Boom! Your coinswitch account has been created and wait 2 minutes to 24 hour to verify your account.
How To Withdraw Deposit Money On Kuber Coinswitch
Making any transaction like money deposit or withdraw you need to update your bank account details. So read how to add bank account on coinswitch.
How To Add Bank Account On Coinswitch
Simply go to Profile section and click on "Bank Account", then enter your bank account number and bank IFSC code, then click on "Submit".
If You Want Earn Money Online Please Read These Articles
So this is the article you have read how to create coinswitch account account and earn free bitcoin, if you face any issue please comment below