Many Peoples want to make money online by create a blog but when they see their hosting price and domain they feel very sad so i have a trick to start a blog free. So see how to start a blog in 1 minute without any cost.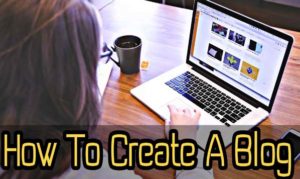 So Friends today I m thinking to discuss something special about how to create a blog free with lifetime free hosting and free domain.
Difference Between Blog & Website:
A website in return can be anything. Anything on the internet presented in HTML/CSS or Java/Javascript/Python/Php, etc. comprises of a website. A webiste may be complimented with a blog, but the home page would be more for browsing other pages and not just posts. Fully functional and eye-catchy websites are usually cost consuming tasks as you would have to build from the base up. However with platforms and services like Adobe Dreamweaver, you could build your own website.
A blog is basically a web log that a blogger makes use for chronological listing of blog posts. A blog has the most recent content shown first followed by the previously updated content. A blog can be easily started with services like WordPress, Blogger, etc. and do not need you to start something from the scratch, providing you with the entire system including design templates.


What Are The Benefits Of Blogging?
Blogging give us more talents and give chance to share your knowledge with the world , blogging mainly give us to help people. By blogging you can earn money online from home.
REQUIREMENTS:
Nothing Is Needed Just Need A Google Account And Good Internet Connection
PROCEDURE:
How To Start A Blog Using Mobile or PC
1.) Open Chrome Browser on your mobile if doesn't have just download it.
2.) Then go to www.blogger.com and click on "CREATE YOUR BLOG" then register with your  Google Account.
3.) Then confirm your account on blogger (1)Google+ Profile , (2) Limited Blogger Profile. Choose any one I recommend (1) Google+ Profile.

4.) Click on "Continue To Blogger" and go to next step.
5.) And then Click "CREATE NEW BLOG".
6.) Now a popup window will open and you need to Enter Your Blog/ Website Name/Title, Website Link/Url and Choose any Theme and click "Create Blog". You can change them later.
• Title- Blog Title Or Blog Name
• Address – Blog Domain Or Blog Web Address.
• Template- Your Blog Theme
7.) You Blog / Website Is Created Successfully!
Now You can post your knowledge and share them with all over the world and also earn money from the blog.

You can change the theme/template of your blog simple going to Theme Option, there you will get free blogspot/blogger theme by blogger. These themes are not mobile friendly you can use third-party blogger theme for fastest browsing and mobile responsive (example: www.how2do.net, www.meghnews.com, www.lonelytricks.tk) if you want.
Also Read These Articles
Free Mobile Responsive SEO Ready Blogger Theme
Read Top 10 Blogger Template