You can Remove System App in one very easily in few seconds just follow these trick. It is very simple anybody can uninstall system app from their devices.
  Hey guys I m back again and you are welcome back to thetricks.in . today I m thinking to share a trick for removing system app on android device,uninstall system app , delete phone app, free up Phone storage.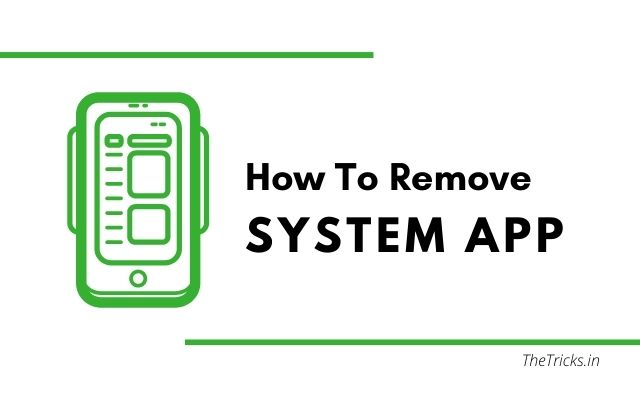 How To Remove System App From Android Device
  This trick is not easy so guys be careful when you read this trick. You need a rooted android device to remove your device system app. If don't know about root then see rooting process his to root any android device.
What's Is System App?
System apps are those apps which are installed on your device from the factory. System apps are deafult apps , you cannot delete or uninstall them without root.
Why We Remove System Apps & Advantages For Removing System Apps:
We remove system apps in many cases:
For making our handset fast.
For freeup our device storage.
For getting free from advertisement & many more.
Trick To Remove System App From Android Device
I have two method for removing system app with root #1ES File Manager , #2 Root+App+Delete . let's see the both method are working well.
1st Method ES File Manager
ES File Manager Is The Best File Manager Ever and a lots of features . ES File Manager Also Can Delete System Apps Through Root Access.
Requirements:
✔ES File Manager.
✔Rooted Android Device.
(download links are below)
Procedure:
First download ES file manager from below link or from play store.
Open ES file manager and goto apps option (click on apps).
Then click on menu symbol on upper left corner.
Then click on Root explorer, and give root access permission.
Now click on user apps on the upper side and choose System Apps [ change from User Apps to System Apps].
And then select the app which one you want to remove/ delete from your system.
A popup window will come and then click on "Uninstall App".
You may ask for root permission. Must grant the root permission.
Wait few seconds your app will be removed successfully.
But you are not still done. "Must Restart Your Device" after removing system apps.
The method one to remove system app by ES file manager is done must read the second method also.
Read These Articles:
->How To Use Internet In Flight
->More Tips & Tricks
2nd Method App+Root+Delete
App Root Delete is an android application which have features for remove, freeze, force stop apps. App Root Delete Can Easily Remove Your Device I mean System Apps by Giving Root Access.
Requirements:
✔ Download App+Root+Delete app.
✔ A rooted android device.
[See all links below this post]

Procedure:
First download App+Root+Delete from below link you may search it on google.
Then open App+Root+Delete.
Then Click on "System".
You will get a popup window with two options. (i)Pro & (ii) Junior.
You need to click on 1st option that is " Pro".
Then choose the system app which you want to remove or delete .
Then you will feel two options (i)"#2″ & (ii)"#1″ .
Select on the second option "#1" .
Your System App Will Be uninstall In Few moments , wait until the process is done.
When It Is Finished You Need To Restart /Reboot your android device
Download Links:
=> How To Get Unlimited Data In Warp
=> How To Remove Image Background In 1 Second
I hope you can Remove System App . Never miss to write a successful comment The comment box is below the post and share how to remove system app with your friends. Continue visiting to my blog for latest trick.