A fampay referral code is important to open a FamPay account, this is the best trick to get your own fampay referral code, see how to get a referral code.
Fampay is a new app that provides free virtual cards (VCC) with only on mini KYC. This is the best Virtual Card to use on PayPal. Fampay Virtual Card is also working on PayPal's first transaction offer. You can also earn unlimited PayPal money using Fampay Virtual Card.
Join Using Fampay Referral Code [MASHVZ8XT] and earn ₹50
[Note: This offer is only for 11-17 year aged users]
Requirements
An Android Mobile or iPhone
One mobile number, which is never registered on Fampay App
Aadhar card with registered mobile number.
Good Internet Connection.
Profits On Joining Fampay App
Free Prepaid Debit Card with "0" fees (after KYC).
Earn a Joining Bonus of ₹51 (after KYC).
Free Virtual Card working on PayPal offers (after mini KYC).
Trick To Earn Money On Fampay App Using Referral Code
Open the app and skip the pages and click on " Get Started".
Enter your mobile number and click on "Continue"( which one is never registered on Fampay).
You will receive an OTP on the given mobile number.
Enter the OTP and "Continue".
Now you have to enter the FamPay referral code and click "Enter" (You wouldn't get anything if you do not use the referral code)
Write this code there MASHVZ8XT(must enter this code otherwise you would not get a joining bonus)
And then enter your name and date of birth (must be the same as Aadhar card details).
Hurry! your registration is done.
Now you just need to verify yourself and add parents on Fampay to verify you, because you are not an adult.
How To Verify Yourself On Fampay?
1. Click on "Verify".
2. You will see a page containing the aadhaar logo then click "Continue".
3. And then enter your Aadhar Number and click on "Continue".
4. An OTP will send to Aadhar Registered Mobile Number.
5. Enter the OTP and click "Verify".
Congratulations Your Verification Is done.
How To Add Parents On Fampay?
1. After your account Verification you will be redirected to a page asking for your parent's details. (Parents' Full Name, date of birth, PAN card number, and FamPay mobile number)
2. Then enter your Parents' Full Name, Date Of Birth, PAN Card Number, and Mobile Number.
3. Then click " Submit and Continue".
4. After that an OTP will send to your parents' mobile number.
5. Now enter your "Parents Mobile OTP" and click "Verify".
Well Done! That is all how to add parents on Fampay and earn ₹51 free.
After verification, you will receive ₹51 in your Fampay wallet.
After completion of parents' acceptance, you need to verify yourself through the Aadhar OTP Authentication system. See how to verify or do KYC on Fampay using Aadhar OTP.
After getting Rs. 101 in your Fampay wallet you may think how can I transfer fampay wallet money to my bank account, here is a simple trick to transfer money fampay wallet to a bank account. See how.
How To Transfer Fampay Wallet Money To Bank?
Just click on "Scan QR". Then simply scan any UPI-enabled QR code and click on Pay, or if you do not have a UPI QR code then click on "Pay To UPI ID" and click " Verify & Pay ". That is all how to transfer money from a Fampay wallet to any bank account UPI ID.
Also Read :
=> How To Transfer Money From Paytm Wallet With Zero Charge
=> Real Research App Earn Unlimited Money.
How To Refer On Fampay and Earn ₹50 – ₹1000 Per Refer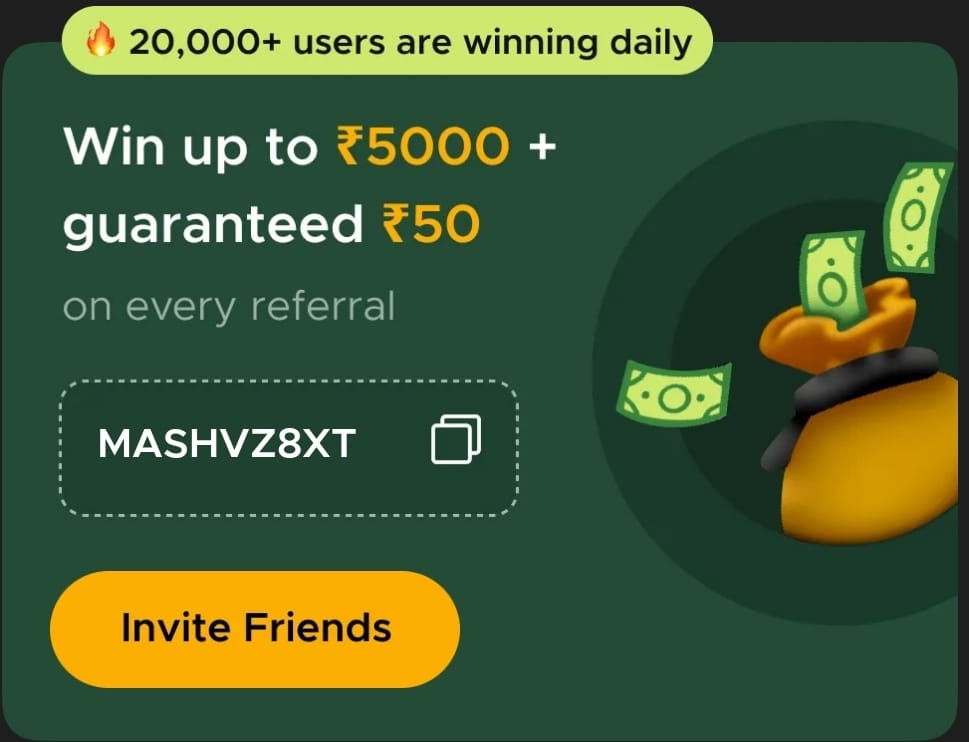 Scroll down and find the Invitation Section.
Then click on "Invite Friends".
Share the link with your friends, whom you want to refer.
And also share your refer code with them.
After successful registration and verification through aadhaar, you and your friend will get ₹101 instantly. I write that earn ₹404 per number which means when you join through my references will get a bonus of ₹101 and then when you will refer your friends to Fampay you will get ₹101 x 3 = ₹303.
[Note: You can only Invite 3 friends on Fampay from one account and the Invitation link will expire in 48Hours from the time of link generation]
How To Get Fampay Referral Code?
The famPay referral code is MASHVZ8XT. You can get your FamPay referral code in the FamPay referral section.
How To Get FamPay Refer Code?
FamPay refer code is MASHVZ8XT. You can get it in your refer & earn section.
How To Get FamPay Card Free?
You can get a FamPay Card free of cost by referring your friends to FamPay. Simply send your referral link to your friend and ask them to complete registration.
Many friends ask me how to get FamPay Card free, so I m writing a paragraph after researching for getting a FamPay card free. Now the offer is running refer your friend to FamPay and get a spin, and you will get a minimum of ₹50 – ₹1000 per spin.
Total Time: 2 minutes
Invite Your Friend To FamPay.

First, you need to invite your friend to FamPay you can easily invite them through the referral link and referral code. Full instruction on how to refer friends on FamPay is above. Only for 11-17 year aged people.

Complete Friends FamPay Account Registration.

After that, your friend needs to complete registration by entering basic details.

Verify Friends FamPay Account.

After registration, your friend needs to verify their account, simply using an Aadhar card and OTP.

Add Parents And Get Access.

You are a minor, so you need your parent's permission to access your FamPay Account. Just add your parents and add them to your family. After adding your parents you will get ₹51 too.

Spin and Earn ₹50 – ₹1000

On a successful referral, you will get a FamPay spin chance. Goto Rewards Section and scratch the card then spin, Boom you got a ₹50 – ₹1000 guarantee.

Order FamPay Card for Free

After 5 Referrals you will get a minimum of ₹250 rupees, Now use them and order FamPay Card free.
Unlimited Trick To Earn Unlimited Money Using Fampay Referral Code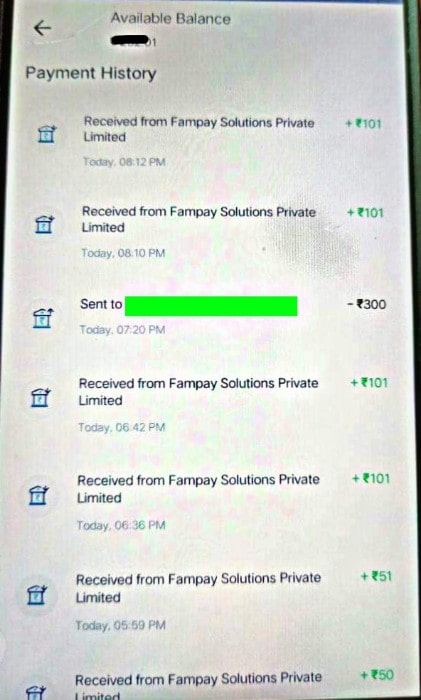 After getting bonus money simply transfer it to a bank account and then clear all data if the Fampay app.
Then register with a new number.
Then enter the FamPay referral code.
Now add old/existing parent.
And then verify yourself using your old aadhaar or the new one.
Done! You will get ₹101 instantly in your Fampay wallet, transfer it and do it again.
[ Note: You Do Not Need New Aadhar Number, You Only Need A New Mobile Number]
Terms and Conditions of Fampay Referral Code
Fampay Refer & Earn is only for Teenagers ages 11-17.
Only 3 refer can be done by a single user.
This offer is valid till 25 October 2020.
The Referral Code will be expired in 48 hours.
Aadhar KYC is mandatory to get a bonus.
Adding parents is mandatory for teenagers.
I hope you enjoy this article fampay refer and earn an offer with an unlimited trick if you are facing any problems must write in below comment box. And if you need any other FamPay referral codes please comment below because sometimes the FamPay referral code gets expires.
FAQs
Is FamPay safe?
Yes, FamPay is safe and secure for children to make online payments with the permission of their parents.
Is the FamPay card free?
Yes, FamPay Card is free of cost for children. But it takes rs.336 charges for print and delivering the physical card to your doorstep.
How does FamPay works?
FamPay works like a bank account for minors. It has a numberless card that can be used on any online platform merchant through UPI without adding any bank account or card details. Parents can send money to their kids on the FamPay app with full control and supervision over the money they spend.
What is FamPay?
FamPay is India's first payments app for teenagers(11-17year age) and their parents. FamPay is useful as it allows parents to send money to their kids above the age of 11 but below the age of 18, which they can spend securely any time, anywhere, under their parents' supervision. FamPay aims at making payments smooth and fun for children and also removing headaches from their families. Fampay is actually Family Pay App
Conclusion
FamPay is the best payment platform for teenagers to pay at a shop, do mobile recharge, etc, it is free of cost but need a referral code to open Fampay account. Just use our code, open account and enjoy.